<![if !supportEmptyParas]> <![endif]>
Papago Park new gravel topping
<![if !supportEmptyParas]> <![endif]>
<![if !supportEmptyParas]> <![endif]>
November 3, 2003
<![if !supportEmptyParas]> <![endif]>
Thanks Brian and George!
History:  May 22nd, 2002 was the first of many meetings between Papago Park, Papago Archers and the Arizona Junior Olympic Archery Development Association. 
Since that time:
<![if !supportLists]>1. <![endif]>Volunteers including the Maricopa county sheriffs department chain gang have cleaned up the range.
<![if !supportLists]>2. <![endif]>A storage container has been located on site.
<![if !supportLists]>3. <![endif]>Target archery equipment secured.
<![if !supportLists]>4. <![endif]>Regular classes and practice has been established
<![if !supportLists]>5. <![endif]>Many events including tournaments and a free Intro to Archery class have been held.
<![if !supportEmptyParas]> <![endif]>
<![if !vml]>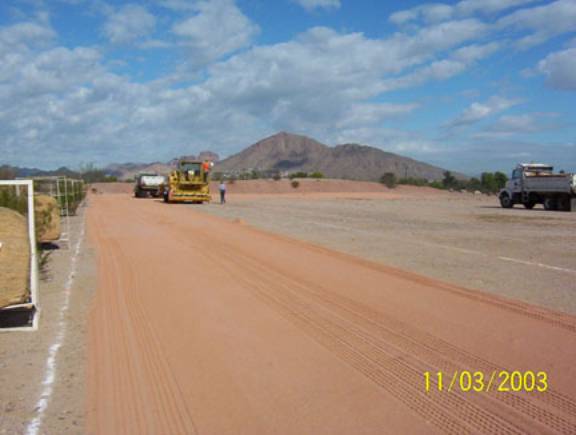 <![endif]>
Today: a number one priority of Decomposed Granite (DG) has been fulfilled thanks to the City of Phoenix Street Transportation Department Brian Hinrichs, Street Maintenance Superintendent and George Frangos, Street Transportation's Senior Technology Specialist and JOAD supporter.
DG ground cover is desirable in non-turf fields for dust control.  Archers like DG as it covers the rocks that break arrows that cost anywhere from $5 to $50 each.  Papago Park Manager Kathryn Reichert was more than happy to coordinate the improvement on the Parks behalf.
The first event on the field will be that National Field Archery Associations Arizona International Round.  The round features 10 different distances shot in rapid succession.   Many archers will have "misses" and will greatly appreciate the DG.  Other upcoming events include a Senior Olympic program tournament in mid November and the Fall Star FITA in December.  Practices continue to be held on Saturday mornings of non-event weekends.
For more information contact, azjoad@cox.net
<![if !supportEmptyParas]> <![endif]>
<![if !supportEmptyParas]> <![endif]>
<![if !supportEmptyParas]> <![endif]>
Return to Top                                                                                    Return to Newsletter Updates
<![if !supportEmptyParas]> <![endif]>