<![if !supportEmptyParas]> <![endif]>
<![if !vml]>

<![endif]>   Home
<![if !vml]>

<![endif]>   Welcome
<![if !vml]>

<![endif]>   Hits & Misses
<![if !vml]>

<![endif]>   Starting Out
<![if !vml]>

<![endif]>   Events
<![if !vml]>

<![endif]>   Projects
<![if !vml]>

<![endif]>   ARCO
<![if !vml]>

<![endif]>   Fundraising
<![if !vml]>

<![endif]>   Contacts
<![if !vml]>

<![endif]>    Updates
<![if !supportEmptyParas]> <![endif]>
<![if !supportEmptyParas]> <![endif]>
<![if !supportEmptyParas]> <![endif]>
<![if !supportEmptyParas]> <![endif]>
Archery Outreach
<![if !supportEmptyParas]> <![endif]>
<![if !supportEmptyParas]> <![endif]>
Oct. 24, 2002
<![if !supportEmptyParas]> <![endif]>
<![if !vml]>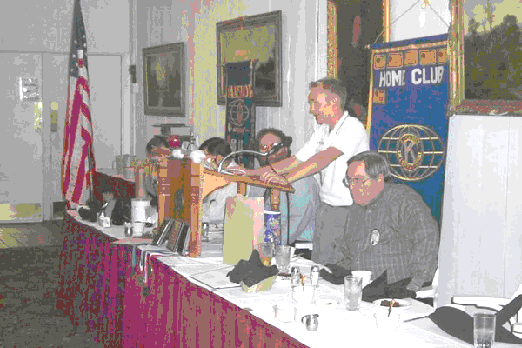 <![endif]>
<![if !supportEmptyParas]> <![endif]>
AZJOAD speaker, Ted Harden 2 explains what it takes to be a Junior United States Archery Team member to the Camelback Kiwanis Club.
Ted Harden 2 was invited to speak at the Camelback Kiwanis luncheon at the Beefeaters Restaurant on 3rd Ave and Camelback on October 24, 2002.  After a nice meal of beef stroganoff followed by a slice of chocolate cake, Ted briefly explained Olympic target archery, the JOAD program and his personal accomplishments, which included participating this year at the VII Junior World Championship as a member of the US Archery Team in Nymburk, Czech Republic.   He brought three bows for explanation purposes and answered many questions from the distinguished audience of commercial realtors, retired judges and notable Phoenix businessmen.  The well-stated questions and Ted's informative and thoughtful answers kept all interested. 
Based on the exceptional level of interest by the membership, Ted has been added to the Kiwanis speakers list to present at other Phoenix - Metro area meetings.   Ted plans to add target faces and arrows to his "props" next time.
<![if !supportEmptyParas]> <![endif]>
Ted2 is a Junior at Marcos De Niza High School and is also a member of the Junior US Archery Team. He has been in competition for just over three years and is currently training to qualify as a member of the US Team for the 2003 World Indoor Trials in Nimes, France.
<![if !supportEmptyParas]> <![endif]>
JOADs are encouraged to help get the word out at every opportunity.   The more people who understand what it is we do, the better chance we have of growing the sport.
<![if !supportEmptyParas]> <![endif]>