<![if !supportEmptyParas]> <![endif]>
NAA Level 2 Graduates
<![if !supportEmptyParas]> <![endif]>
<![if !supportEmptyParas]> <![endif]>
<![if !supportEmptyParas]> <![endif]>
The Arizona summer proved to be a great time to conduct a NAA Level 2 Instructor certification class.  Level 3 Coach/Instructor Mike Koistinen was the instructor for the second year in a row.  The indoor portion of the class was held at the Scottsdale Community College Fitness Center classroom thanks to arrangements made by Rockney Repp.  The range portion was taught at the ever-improving Papago Park Archery Range.
<![if !supportEmptyParas]> <![endif]>
Eight took the class with the intent of broadening their archery knowledge and learning to teach.  Many will be able to be JOAD club instructors as the National Archery in the Schools program creates more youth archery interest and demand for programs.  The variety of students was great to see and ranged from seasoned veterans to JOAD adult volunteers to JOADs that plan to help teach.   Greg Redhouse will be sharing his instruction the rest of the Dine College Archery Team.  The topics included history, bow tuning, safety, and a host of other topics.
<![if !supportEmptyParas]> <![endif]>
<![if !vml]>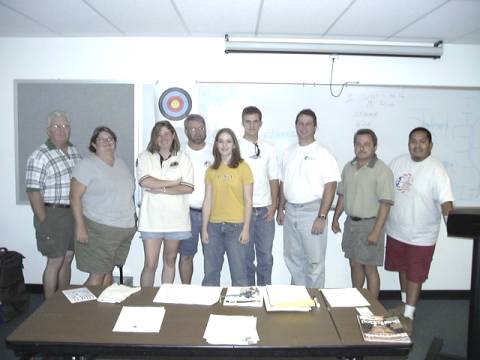 <![endif]>
From left to right:  Rob Asay, Barbara Noblet, Leslie Humbarger, Mike Koistinen, Sara Bernes, Chris Anstead, Rockney Repp, Nic Panawa and Greg Redhouse.      
<![if !supportEmptyParas]> <![endif]>
Many "would be" students have indicated that the summer was just too busy for them to take the class.  They hope another class would be offered.  Future classes will be scheduled upon demand.  Let Mike know that you are interested in taking the class.  Mike would like to teach a class of 12 to 16 next time.
<![if !supportEmptyParas]> <![endif]>
Help Arizona JOAD grow…
<![if !supportEmptyParas]> <![endif]>
<![if !supportEmptyParas]> <![endif]>
Return to Top                                                                                    Return to Newsletter Updates
<![if !supportEmptyParas]> <![endif]>